The outdoor gym is now a worldwide phenomenon, and it's no wonder. Who needs a stuffy gym when you can move your full-body workout outdoors without compromising its quality? Here we introduce five modern outdoor fitness areas that turn each gym session into a memorable experience.
What makes outdoor gyms so popular is their location and accessibility, which attract new users and makes it easy to create regular users. Many cities have placed their cost-free outdoor fitness areas next to children's playgrounds, beaches, or fitness trails, guaranteeing activity for the whole family.
1. Arctic outdoor fitness area in Lapland
Enjoy the northern lights while getting in a great workout. Sounds like a dream, right? The City of Kittilä in Lapland, Finland, provides an authentic arctic gym experience to its citizens and tourists all year round. Omnigym's equipment suits well with the Viking mentality and is designed for even the most challenging weather conditions.
Many Omnigym outdoor fitness areas in Finland are located next to a ski route, allowing users to combine strength and endurance training. In the summertime, skiing can be replaced with effective Nordic walking or running, for example.
2. A beach gym in the heart of Helsinki
Hietaniemi Beach, in the heart of Helsinki, is a popular destination for citizens and tourists. The modern beach gym makes it easy to be more active while enjoying the sun. What is better than taking a refreshing dip in the sea between rounds?
Hietaniemi is easily accessible by foot, car, or public transport and provides lots of activities like beach volleyball and basketball. In addition, there is a playground for children, a cafe, and a minigolf course within walking distance.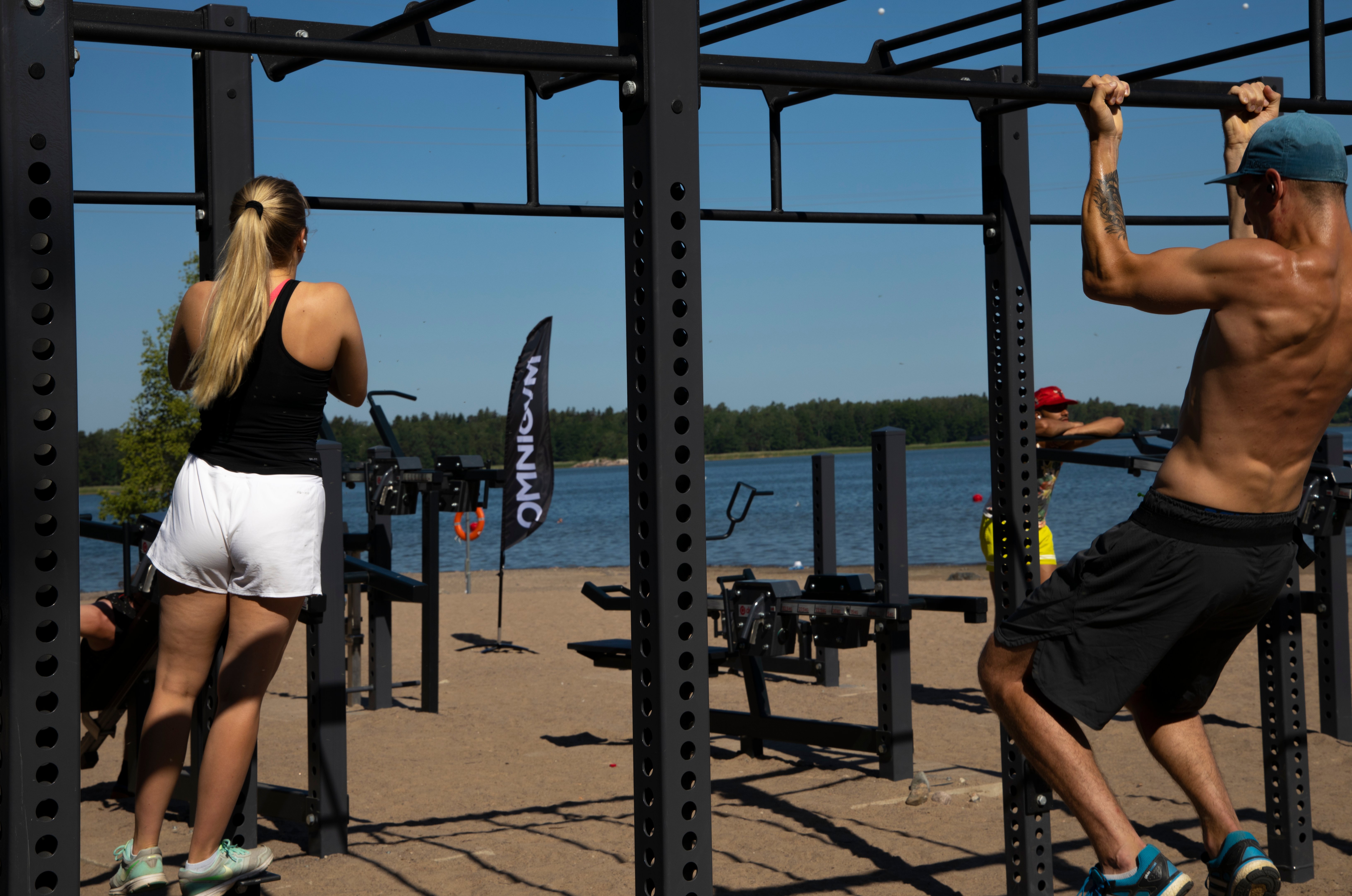 3. A military gym for all-year-round training
The Finnish Defence Forces have invested in a quality outdoor gym in Säkylä, which ensures the versatility of training at the Säkylä garrison. In addition to the muscle-strengthening space, the whole area encompasses the following: running track, football field, small game and play areas at the ends of the field, as well as the small game and play / multipurpose field next to the athletics park.
The conscripts are encouraged to increase their psychical activity, which is rewarded with military leaves.
4. Indoor and outdoor gym combined Norwegian style
A private Norwegian gym wanted to stand out from competitors and provided an outdoor gym option for its members. Hence, they can enjoy a sunny day while exercising in the fresh air or escape the rain inside.
In addition to private gyms, outdoor gyms have become increasingly popular in fitness centers and resorts worldwide. The easy-to-use equipment suit well for independent use for everyone from beginners to high-performing athletes, adding value to many service providers.
5. A private outdoor gym for employees
A global company decided to invest in their employees' well-being and open a private outdoor gym in Finland. As a result, the employees can take a needed break between meetings or get their workouts done before or after the workday.
Regardless of how excellent the indoor air quality is, it does not compare to getting enough fresh air daily. Not to mention the positive effects of boosting one's circulation to compensate for all the sitting.