With 2023 right around the corner, it's time to start blueprinting how to make movement consistent, holistic and enjoyable for the upcoming year. The key to a successful year of movement comes down to understanding and planning your goals.
Before making a strict workout schedule, pause for a while and think about what kind of movement brings you joy, what kind of routine would fit your life, and whether there is still enough time for you to rest.
Let's plan
After you've done your reflection, you can start working on your weekly plan. If your weeks differ from another, don't stress about tying a certain activity to a certain day. You can alternate the workouts, but try to stick to your plan on a weekly basis.
A very common reason for people to stop their workout routine is when they fall out of the schedule one day and feel like they have to wait seven days to get back to the beginning again. So allow yourself some flexibility and let go of the all-or-nothing mindset.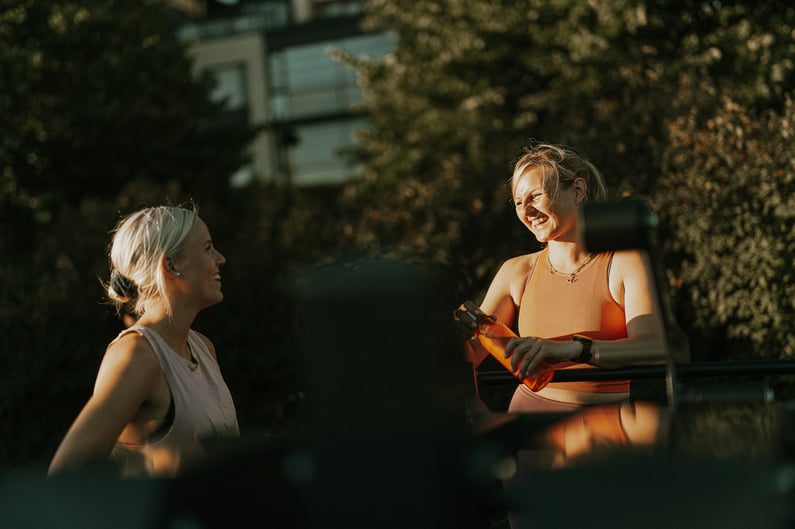 Your weekly workout plan should contain these five components:
Muscle training
Cardio
Core training
Mobility
Rest
Combining these five elements you'll prevent injuries and get closer to living your healthiest life.
Here is a simplified version of a workout plan. Add your favorite sports and alter them when you feel like it.
Day 1: Full-body circuit training
10-15 repetitions, on each equipment, 3-5 rounds.
Start with a proper warm-up to make sure, your muscles are ready for the work. You can head to your local gym or find your nearest Omnigym and use the equipment, for example, Squat, Bench press, Low row, Lat Pulldown and Core rack. You can start with these 5 equipment or use as many as you feel like.
Day 2: 30-60 minutes of Cardio
Go for a jog in the woods, walk with the doggo or take a bike ride to the shore. Or if you feel like dancing, do that. As long as you get a little sweat and feel your heart and lungs working.
Day 3: Mobility and core
If you're into yoga or pilates, today is the day for those! And if not, you can utilize the Core rack or Leg raise/Dip/Chin-up for your crunches and back extension or leg raises and pull-ups. After the workout, go through your body, stretching from your back to arms and shoulders, to thighs, hips, quads and glutes. You can stretch each muscle from 30 seconds to 2 minutes.
Day 4: Full-body circuit training
10-15 repetitions, on each equipment, 3-5 rounds.
The same basic idea as on Day 1. You can use the same equipment as prior, or for example, switch the Squat to Leg press (or use them both).
Day 5: 30-60 minutes of Cardio
Like on day 2, do the cardio you feel like doing. And if you feel like exercising longer than 60 minutes, great! But just don't overdo it, so that you'll have energy for your next scheduled workout day. 😊
So with the five days planned, have two days a week for rest. It is important to remember to include plenty of rest and recovery within your week as well. Listen to your body and rest when necessary to avoid burnout and overtraining!
With the above in mind, let's have a healthy and fit 2023!