Lack of physical activity and poor health are causing direct healthcare expenses and productivity expenses of

80

billion euros per year in Europe*. Many municipalities across Europe have reacted and invested in broad activity programs that provide equally accessible sports facilities, such as free outdoor gyms.
​The city of Helsinki has invested in Omnigym outdoor gyms and other sports venues during the last years. The picture was taken from the outdoor gym in Kurkimäki, Helsinki
"Many of us have tried the traditional outdoor gym equipment that uses one's body weight. However, the experience isn't comparable to a proper workout at an indoor gym", says Sami Kaivola, COO of Omnigym that manufactures Omnigym outdoor fitness equipment.
The city of Helsinki in Finland ordered an outdoor gym concept and equipment line in 2015 from an established manufacturer that designed high-quality indoor gym equipment with a scientific and research approach. Ever since it has been possible to work out outdoors as effectively as at indoor gyms, today, Omnigym equipment can be found in 170 spots in Europe - over 1000 pieces of equipment have been sold already.
Omnigym differs from traditional outdoor gym equipment with its adjustable load, which has a patented mechanism. The equipment is biomechanically implemented correctly to enable optimal training response and a safe trajectory. The carefully designed surface material makes it durable in all weather conditions.
"The quality of our products is constantly improved and researched in addition to our own research and development, in collaboration with University of Jyväskylä's Faculty of Sport and Health Sciences. For example, durable surface materials are a result of many years' development. We find it crucial that the equipment meets even the highest quality and safety criteria", summarizes Kaivola.
Omnigym equipment is designed and manufactured in Turku, Finland. They consist of long-lasting components that have a low need for maintenance.
"All parts can be replaced if necessary, and we ensure they are available for at least 10 years after the procurement. It is our goal to help municipalities make reasonable investments in citizens' health. The equipment's service life needs to be considered from many different aspects", points out Kaivola.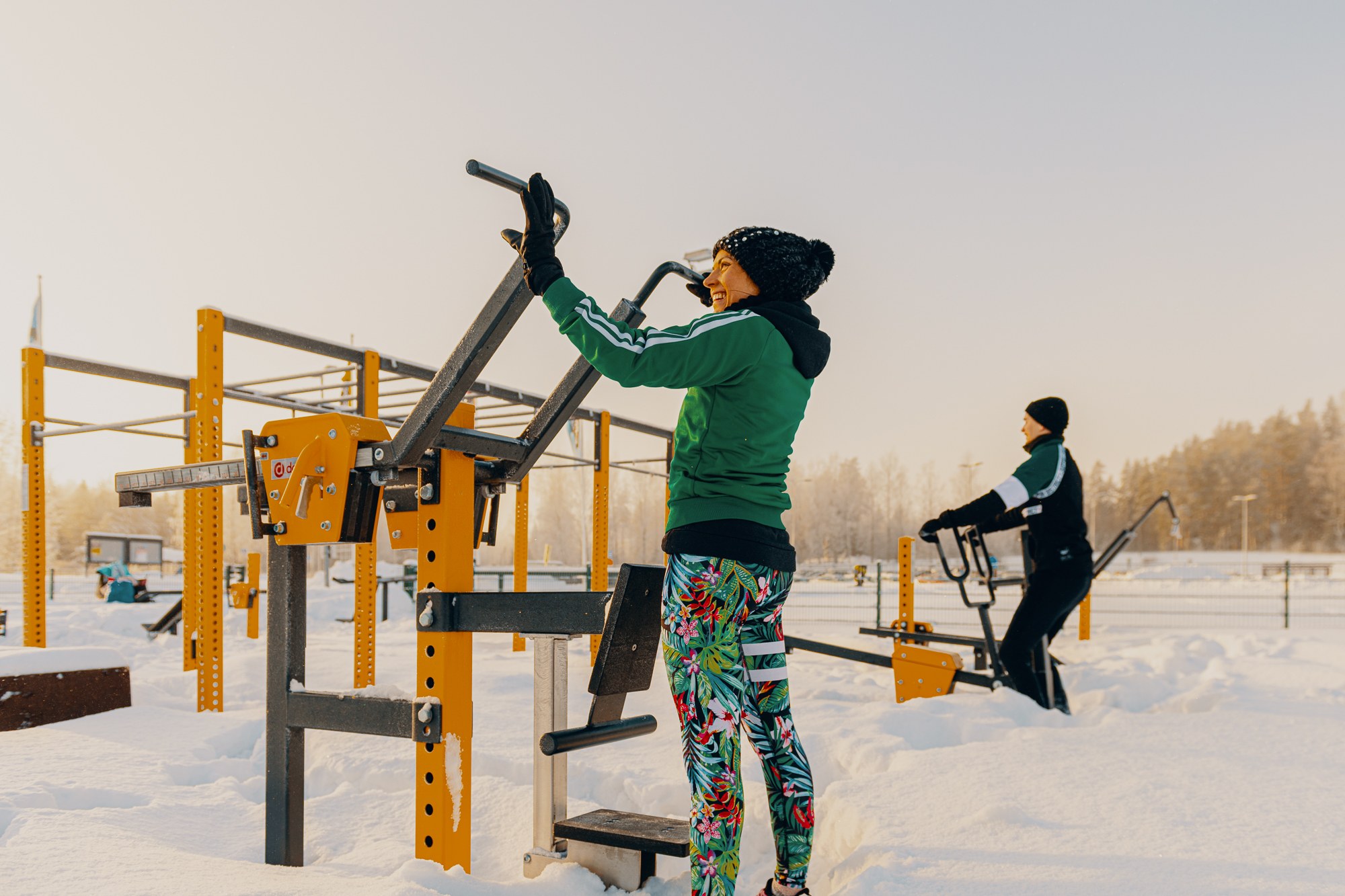 The Omnigym equipment are durable and made to function in all weather conditions.
Only crowded sports venues pay back the investment


Omnigym equipment is suitable for a wide user base, which is possible due to the patented adjustable load. Adjusting the resistance is easy, quick and safe, making the equipment popular among users. The equipment comes with clear instructions and with QR codes, users can scan video tutorials.

Omnigym is constantly improving the equipment based on user feedback. Since 2021 municipalities have been able to measure the utilization rate via sensors placed in the equipment as a beta version.
"In order to realistically evaluate how well the investment is paying itself back it is crucial to know how much that equipment is being used."
Municipalities are happy to invest in facilities that the citizens actually use. For example, there are already 10 Omnigym outdoor gyms in the Lappeenranta area and about 50 in the Helsinki area – the number is constantly growing. The six-week free trial period of the piloting project allows municipalities to find out the attractiveness of an outdoor gym. One of the key factors determining the utilization rate is the location.
Kaivola explains that, hence, often Omnigym outdoor gyms are located next to recreation areas and playgrounds.
"The outdoor gyms not only enable easily accessible sports but also boost communality, and prevent social exclusion. The common recreation areas bring together the elderly, athletes and families, for example."