Hi Hanna, welcome to the team. We're glad to have you here. How did you first find out about Omnigym and what caught your interest?
I saw an ad on LinkedIn and became curious about the role and the company. I had never heard of OMNIGYM but I thought it was the right time with an outdoor gym and was impressed by their offer on the website. It is important to be able to be proud of the products and the company you work for.


Tell us how you view your role in Omnigym.
Right now the company is in an exciting phase of building up the Swedish organization and I hope to be able to both relieve my colleague Tomas and contribute to his work in Sweden, while I together with my Finnish colleagues will build up the business in Sweden, everything from finding a new office to finding good transport partners and being able to contribute to the Swedish strategy.


What is on your wish list and what do you want to achieve during your first year with Omnigym?
My wish and drive are to set a new standard for outdoor gyms in Sweden. All municipalities must have at least one OMNIGYM! I want to put ourselves on the map and make sure that more people open their eyes to an outdoor gym that is at least as good as an indoor gym.


Where do you want Omnigym in Sweden to be in 10 years?
Leading in both equipment and knowledge in outdoor gym in Sweden! In 10 years, there will be more OMNIGYM in Sweden than in all other countries.


If you could tell one thing about Omnigym to all Swedish municipal decision-makers, what would it be?
I feel that decision-makers have come a long way in drawing attention to the benefits of an outdoor gym, now they also need to be aware that an outdoor gym should be at least as good as an indoor gym! The outdoor gym is not a homogeneous product group, there are a variety of gyms for outdoor use and there we will help to update their knowledge.


Do you have a motto or favourite quote?
Fear the unintended consequences

​​​​​​​What's on your bucket list?
Going to Japan!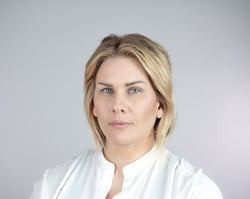 Contact Hanna
Office Manager
+46 723 222 341
​​​​​​​hanna.edman@omnigym.com
​​​​​​​